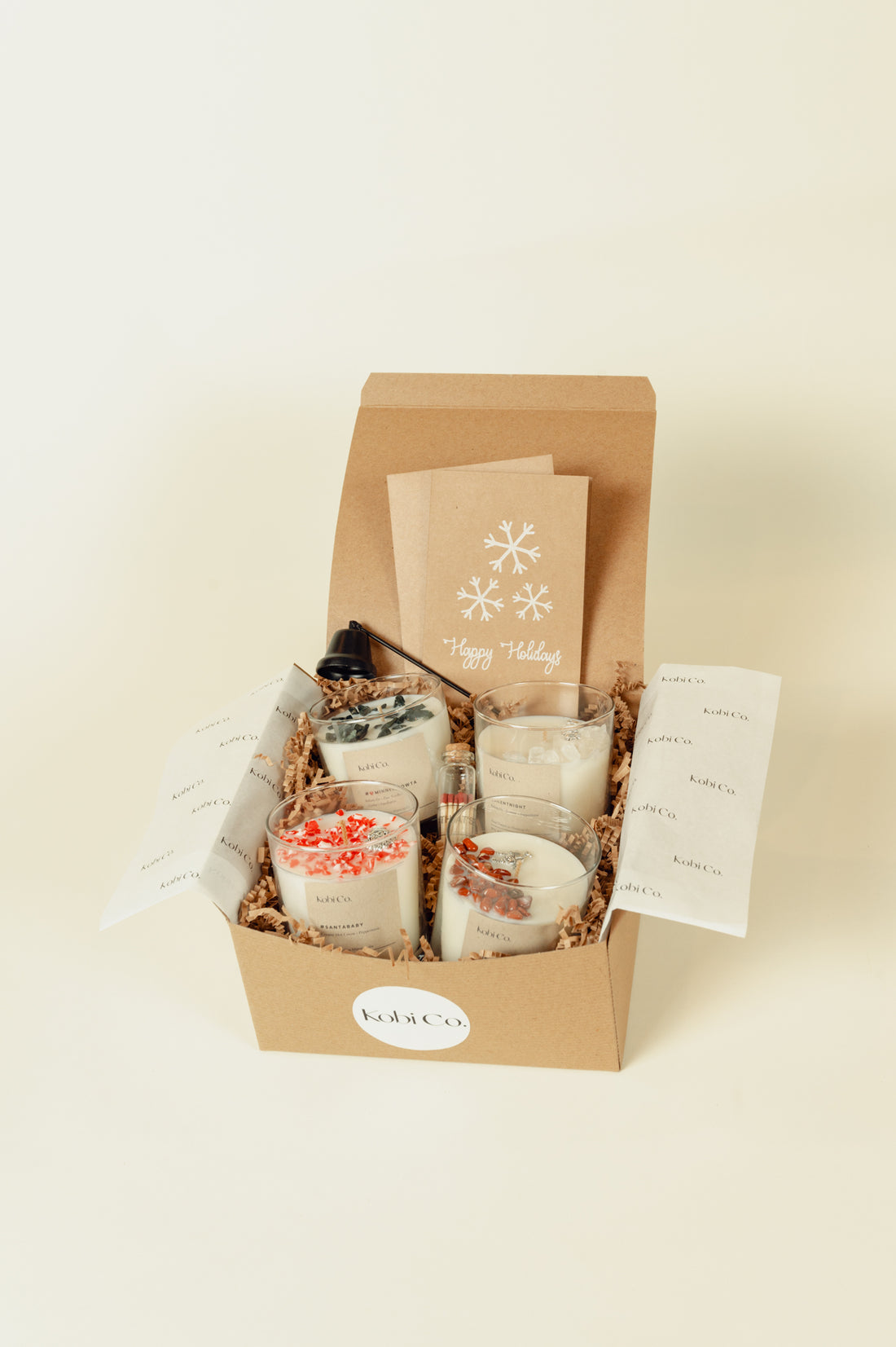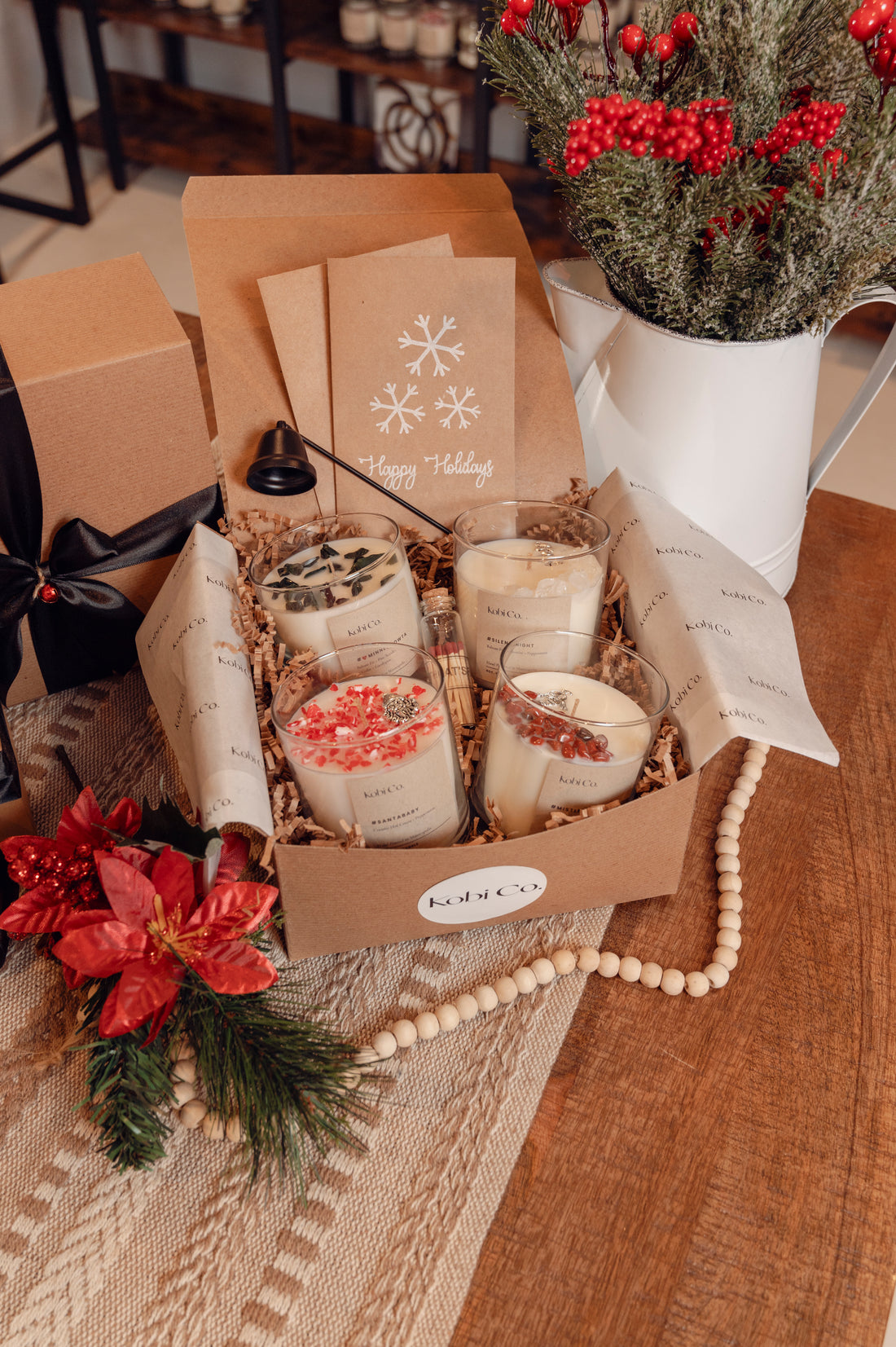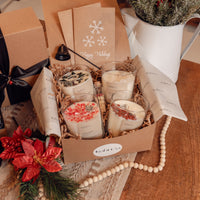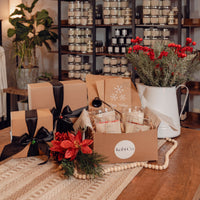 Luxury Candle Holiday Gift Set (4 candles + Card +Matches/Snuffer Kit)
Let Kobi Co. be your one stop destination this holiday season. You'll be filled with joy, warmth, and the magic of scents and really experience the ultimate intersection between scent, sound and self-care with this limited gift set.

💚 Land of 10,000 frozen lakes! Revel in the snowy embrace of #LoveMinnesnowta and all frozen lakes.

❤️ It's that time of the year... Delight in the nostalgic charm of #Mistletoe and loved ones.

🎅🏽 We're sure Mr. and Mrs. Clause will love this one! Indulge in the comforting allure of #SantaBaby.

❄️ Imagine a warm light flickering while being wrapped in a soft blanket. Immerse yourself in the serene aura of #SilentNight.
Materials: Hand poured candle made with non-toxic, environmentally friendly, premium soy based wax and pure cotton wicks. We only use premium fragrance oils, and our candles are safe for those with chemical sensitivities. 9 oz. candles will burn for 50-60 hours.
Return Policy: We are not able to accept returns at this time. Contact us if you have any issues with your candle.
Gift Set Includes:
1 9 oz #LoveMinnesnowta
1 9 oz #Mistletoe
1 9 oz #SantaBaby
1 9 oz #SilentNight
Snuffer + Matches Set
Blank Holiday Gift Card 
💚 Fragrance: Balsam fir, pine, and cedar, like a wintry Minnesota forest.
Playlist Preview: Homegrown faves to warm you up on cold winter nights. Featuring Prince (of course), Lizzo (obviously), The New Congress, and Ipso Facto. Search #❤Minnesnowta by Kobi Co. on Spotify to view the whole thing.
❤️ Fragrance: The heady scent of sweet ale, the sweet resin of balsam fir, with uplifting notes of citrus. 
Playlist Preview: The Christmas classics, including the entire Vince Guaraldi Trio Charlie Brown soundtrack, Mariah (you know the one) and a bunch of songs about mistletoe.
🎅🏾 Fragrance: Rich, velvety cocoa and fresh peppermint. Like you dipped a candy cane in a cup of hot chocolate. 
Playlist Preview: Chill hip-hop and classic R&B takes on some of your Christmas Faves. No Eartha Kitt in sight.
❄️ Fragrance: Sweet & spicy balsam fir, crisp peppermint, and a hint of jasmine. Like a crisp winter's night.
Playlist Preview: Jazzy remixes of classic Christmas carols.
To access your playlist, open the Spotify app on your mobile device and click on the magnifying glass icon at the bottom (the 'Search' icon).  From the Search menu, click the camera icon in the top right. Hit the 'Scan' button and point your camera at the Spotify soundbar located on the label of your Kobi Co. bath bombs. This will take you directly to our curated playlist.